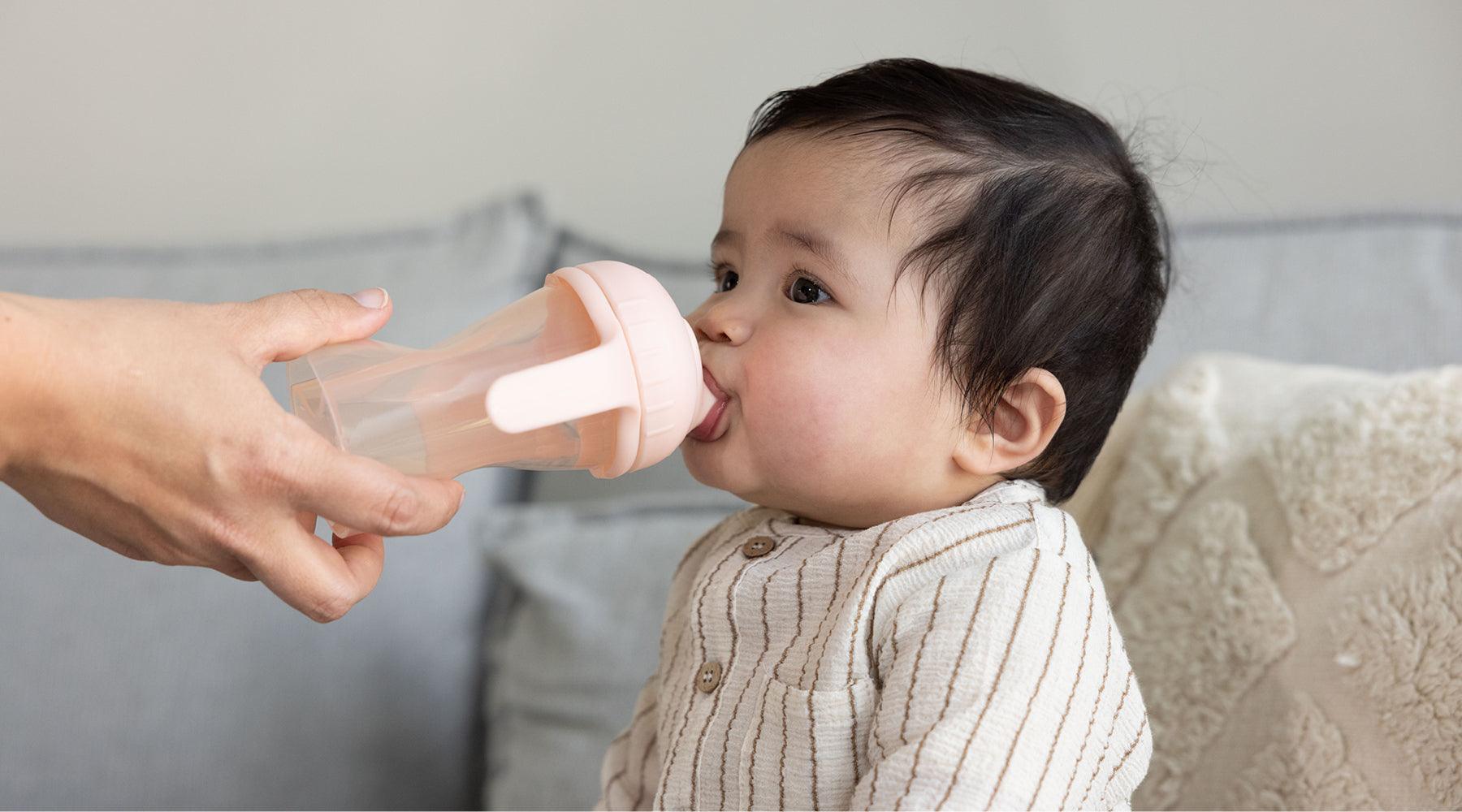 Teaching yourself to drink: this is how to choose the right cup
When do you start using a cup? Which cup is most suitable? What is the difference between cups? All questions that arise when your child is 6 months old, the moment your child starts drinking water as well as milk.
All cups require a different way of drinking. From a sippy cup your child drinks horizontally, this is most like the bottle. A child has to suck from a straw, which is another way of drinking.
So the right choice depends on a number of factors:
Your child's suction power
Your child's dosing ability
Your child's age
Your child's developmental stage
Check the overview to see which cup is suitable for your child
Difrax has 4 types of cups specially designed for your child's development
Your child is 6 months old
Want to teach the transition from baby bottle to cup? Then a training cup is ideal to use. Together with a team of speech therapists, the training cup has been developed to get your child ready for a regular cup. The nose recess ensures that your child can see properly into the cup and at the same time promotes the correct drinking position without straining the neck. This makes swallowing easier for your child. Tip! Use the training cup in the shower or in the bath to playfully master fine motor skills.
Want your child to drink without spilling in the high chair or on the couch? Then from six months onwards a non-spill sippy cup is indispensable. You can comfortably hold this cup upside down without the contents spilling out. The Difrax Non-spill sippy cup has a two-position non-spill system that allows you to adjust the drinking speed yourself. Choose 'slow' for thin drinks and slow drinking, or 'fast' for thick drinks and fast drinking.
Your child is 9 months old
From the age of nine months, you can start practising with a 360-degree cup. This allows your child to drink all around the rim, just like an open cup. The advantage is that a 360 cup has a closed system at the top to prevent spilling. Through suction, the liquid comes out of the cup rim. This way of drinking supports muscle development in the mouth and takes some practice.
Your child is 12 months old
From 12 months, the next step is to introduce a cup with straw. The handy Difrax cup with straw has a soft straw with an integrated non-spill system. The straw only opens when your child sucks on it. Without suction, no liquid passes through the straw. Your child learns another sucking motion, which makes drinking from all cups easier.
The right drinking position
All Difrax drinking cups have a conical shape. This allows the liquid to flow towards the spout or rim of the cup when used horizontally. This prevents the baby's neck from bending forward or backwards unnecessarily. In addition, the narrow, ergonomic cups offer more grip and are easy for small hands to hold.
Beautiful design in trendy colours
There is a suitable cup for every age and new phase. Difrax cups are available in fun, trendy colours to get children drinking on their own.
Shop cups