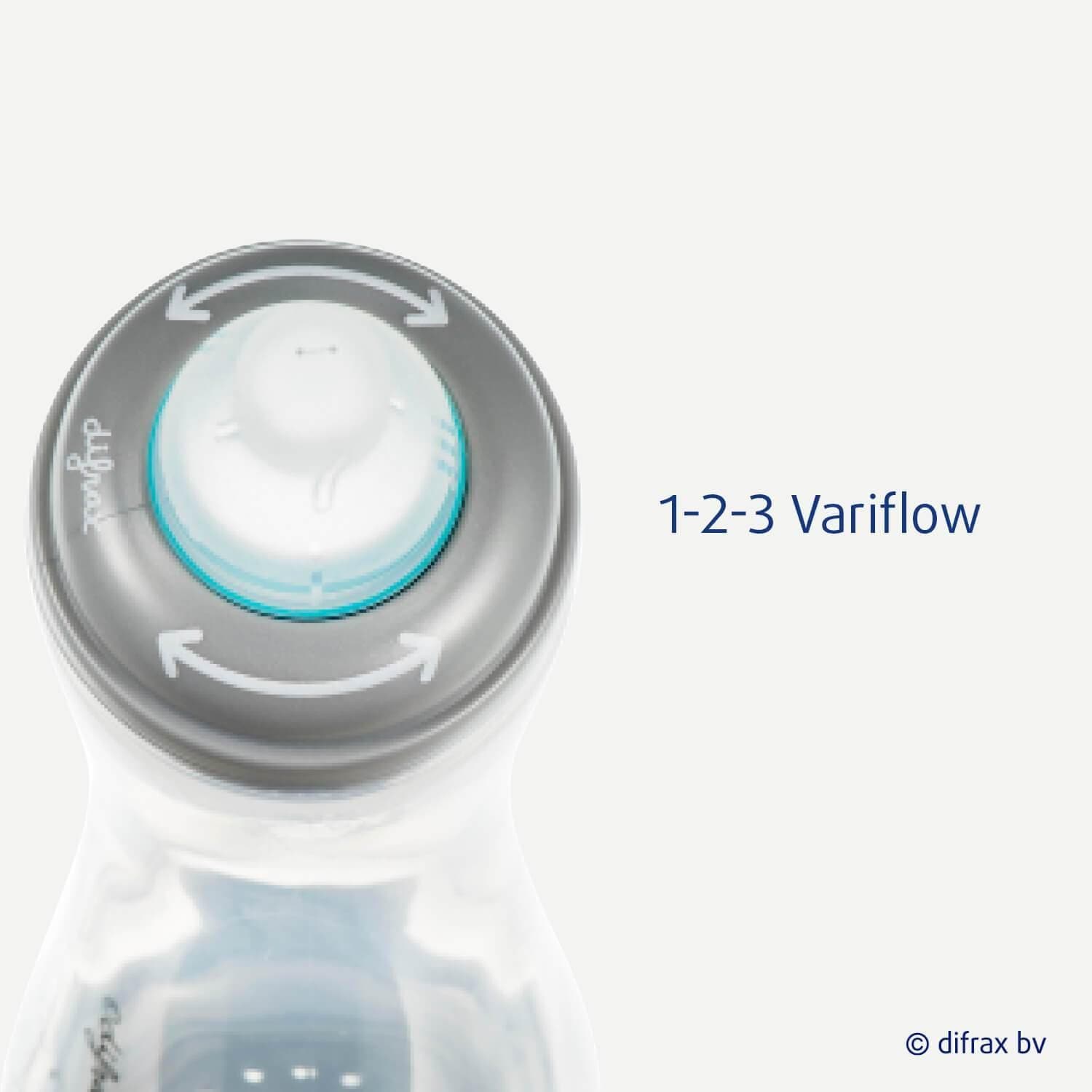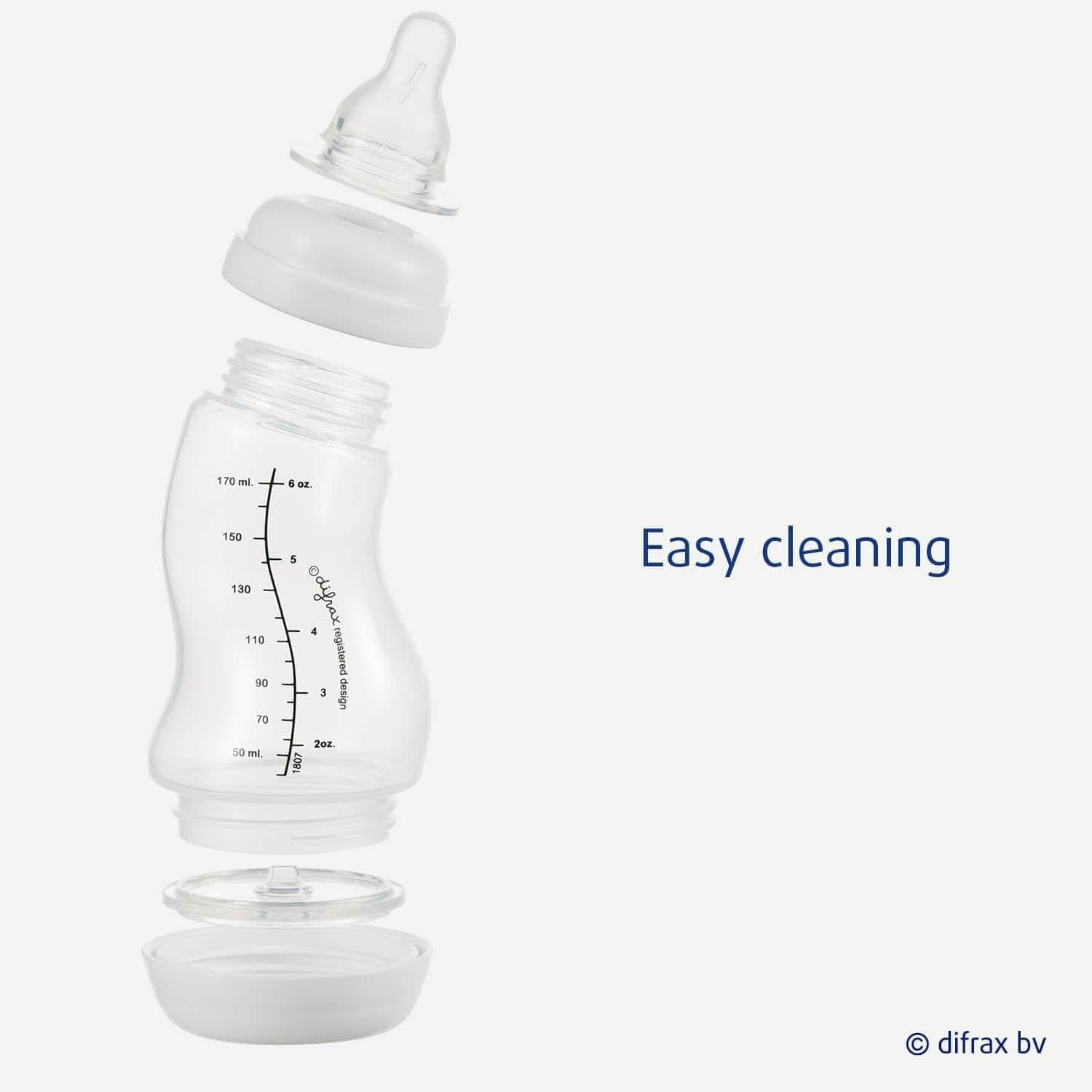 1-2-3 dosing S-bottle - Natural
SKU: 712
Sale price

€13,49
Regular price
(/)
Shop het complete Difrax assortiment

Gratis verzending vanaf €30

Voor 12 uur besteld, dezelfde werkdag verstuurd
The Difrax 1-2-3 Variflow Ring with S-Bottle helps parents to choose and maintain the right position of the 1-2-3 Variflow teat with the Difrax S-baby bottle. This dosing S-bottle is suitable for babies from 3 months and provides food without bubbles.
The 1-2-3 dosing bottle is suitable for thin and thick food and can be used from 3 months. Ideal when your child is fed milk but also thick food such as rice flour or fine cereal porridge. The special coating on the teat provides extra grip. The bottle teat has a soft round nipple shape that resembles the mother's breast.
Stand | for liquid / thin food
Stand || for (slightly) thickened food
Stand ||| for thickened and thick food
On our Difrax Youtube channel video you can see how the 1-2-3 dosing S-bottle works. Go directly to the video.
To change the position of the teat, loosen the dosing ring slightly from the S-bottle. Then you turn the teat so that the desired position on the teat (I, II or III) is placed under the nose. Now you can close the ring again and continue with feeding your baby!
The Anti-colic valve prevents vacuum suction and ensures a constant flow of the bottle feed. This reduces the chance of regurgitation, spitting and abdominal cramps at your baby.
Tip 1! Check carefully before purchasing the loose 1-2-3 ring which bottle you use. The Wide bottle has a different ring than this Natural bottle.
Tip 2! There should be a slit in the 1-2-3 bottle teat. If you only see 2 holes, then it is possible that the silicone material still sticks together. Squeeze the bottle teat at the top with thumb and forefinger. Then the silicone material can come apart. Now the dosing teat works well!
Order & shipment

Ordered before 12 pm the same day. Orders that are ordered over the weekend or on Dutch official holidays are dispatched on the next working day.

During Black Friday and the holidays, keep in mind that delivery services are busier than usual and packages may take longer to arrive.

Questions? Check our frequently asked questions

Shipping cost is dependent on the shipping address. See below for a complete overview.
Free shipping from EUR 30 to the Netherlands, Belgium and France. Free delivery from 100 euros to other countries.
Returning within 14 days
Secure payment




Shipping cost per country

| | |
| --- | --- |
| Country | Shipping cost with normal post (incl. Track & Trace) |
| Austria | € 6,55 |
| Belgium | € 5,95 |
| Denmark | € 7,65 |
| Estonia | € 9,50 |
| Finland | € 9,50 |
| France (no islands) | € 7,95 |
| Germany | € 6,95 |
| Hungary | € 6,75 |
| Iceland | € 15,95 |
| Ierland | € 11,50 |
| Italy (no islands) | € 6,95 |
| Latvia | € 9,50 |
| Lithuania | € 9,50 |
| Luxembourg | € 8,45 |
| Netherlands | € 5,25 |
| Poland | € 6,25 |
| Portugal | € 7,75 |
| Romania | € 9,50 |
| Slovenia | € 7,75 |
| Spain (no islands) | € 7,35 |
| Sweden | € 6,95 |
1-2-3 dosing S-bottle - Natural
Sale price

€13,49
Regular price
Choose options