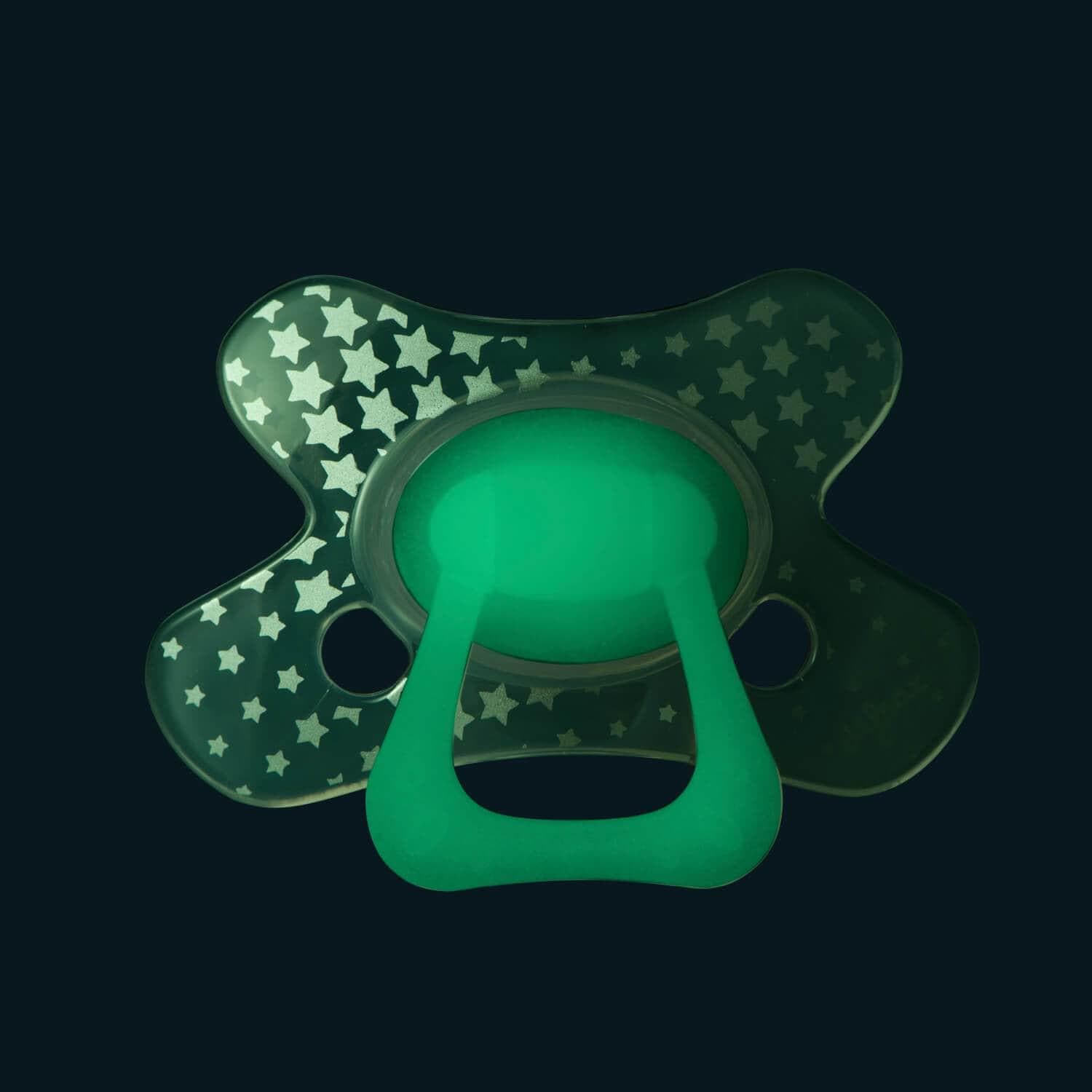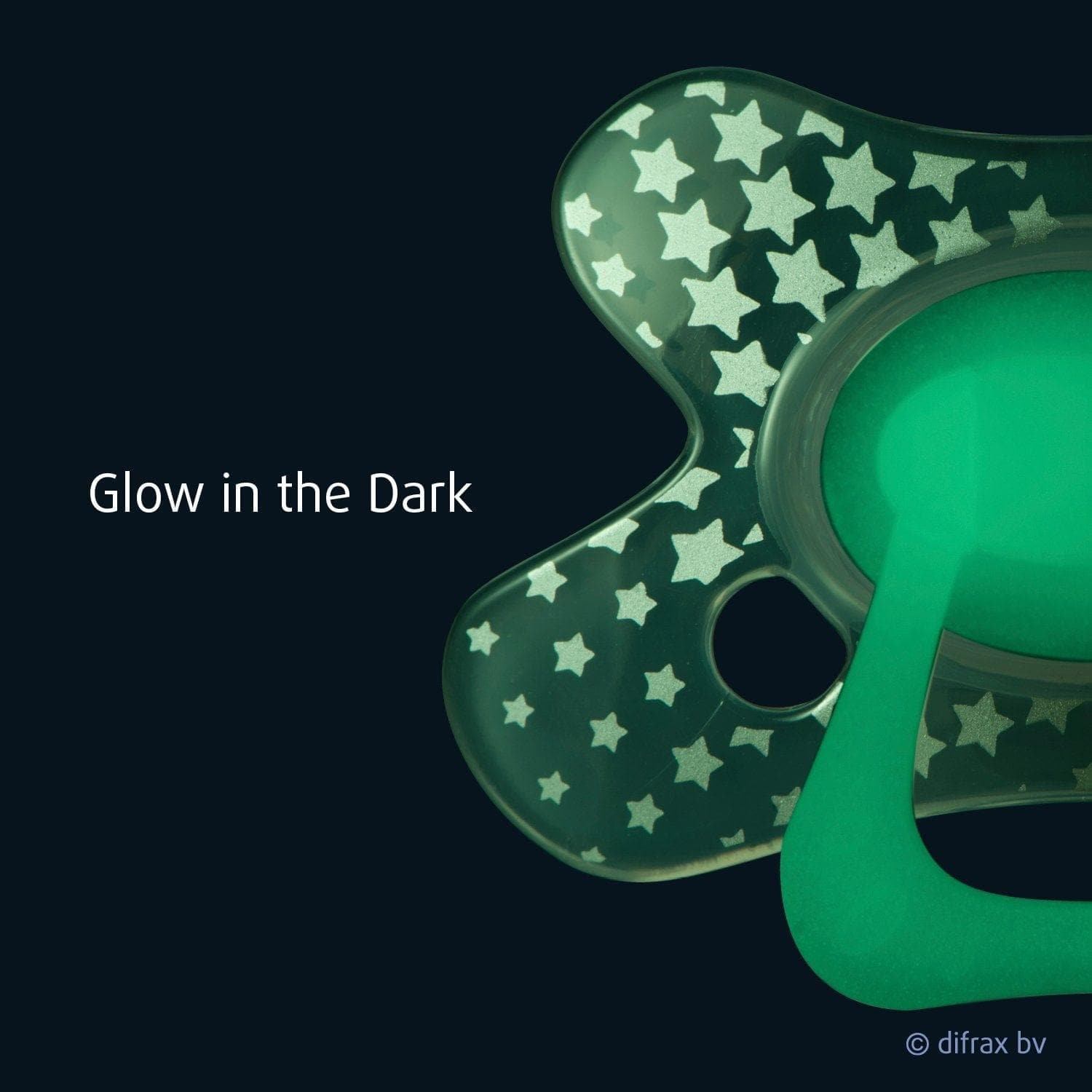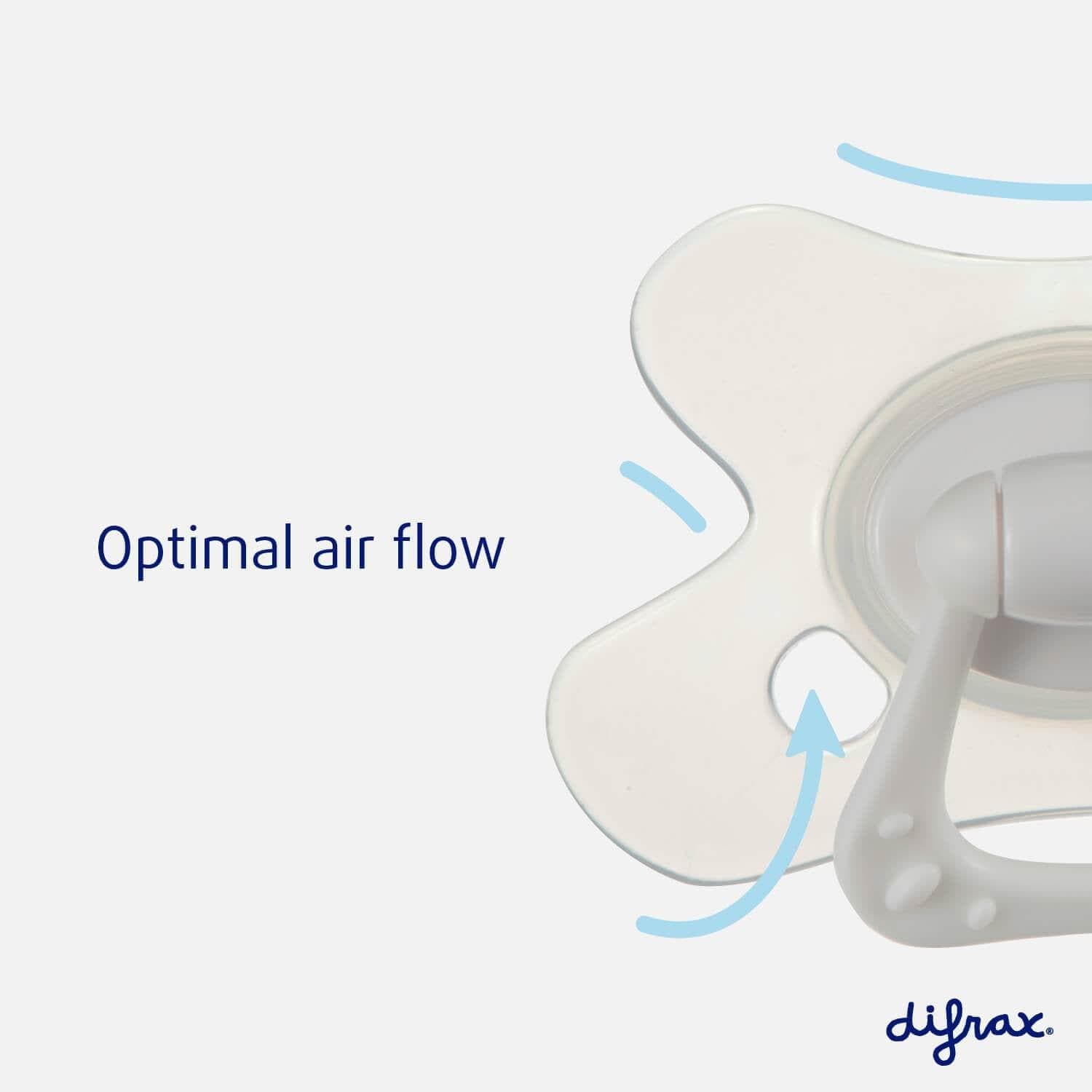 Pacifier Natural 20+ months - Glow in the Dark
SKU: GL803N
Sale price

€6,29
Regular price
(/)
Shop het complete Difrax assortiment

Gratis verzending vanaf €30

Voor 12 uur besteld, dezelfde werkdag verstuurd
The Difrax Pacifier Natural 20+ months has been specially developed for toddlers aged 20 months and older. The silicone teat is firmer and almost completely filled with a silicone substance. There is more silicone substance in the teat of the pacifier compared to pacifiers for toddlers aged 12 months and older, but it's not completely filled like the pacifiers for toddlers aged 18 months and older are. Therefore, there is a good chance that toddlers will accept the 20+ months pacifier when they refuse the 18+ months pacifier. The ring of the Glow in the Dark pacifier absorbs light and glows in the dark.
Difrax pacifiers have a butterfly-shaped shield. This leaves enough room for the nose and makes sure that the teat fits the face perfectly. The holes in the shield guarantee optimal air supply, preventing skin irritation. The size of the pacifier shield has been specially designed for toddlers aged 20 months and older.
The Natural pacifiers have a round, symmetrical shape, which is the easiest for most toddlers to accept. Difrax pacifiers have been developed in collaboration with speech therapists and dentists.
Please note: replace the pacifier every six weeks. Pull on the teat daily to make sure that the pacifier isn't damaged. Is the pacifier damaged? Replace it immediately.
The butterfly shape of the shield leaves enough room for the nose
Optimal air supply, thus preventing skin irritation
Firm teat helps decrease the depency on a pacifier
Order & shipment

Ordered before 12 pm the same day. Orders that are ordered over the weekend or on Dutch official holidays are dispatched on the next working day.

During Black Friday and the holidays, keep in mind that delivery services are busier than usual and packages may take longer to arrive.

Questions? Check our frequently asked questions

Shipping cost is dependent on the shipping address. See below for a complete overview.
Free shipping from EUR 30 to the Netherlands, Belgium and France. Free delivery from 100 euros to other countries.
Returning within 14 days
Secure payment




Shipping cost per country

| | |
| --- | --- |
| Country | Shipping cost with normal post (incl. Track & Trace) |
| Austria | € 6,55 |
| Belgium | € 5,95 |
| Denmark | € 7,65 |
| Estonia | € 9,50 |
| Finland | € 9,50 |
| France (no islands) | € 7,95 |
| Germany | € 6,95 |
| Hungary | € 6,75 |
| Iceland | € 15,95 |
| Ierland | € 11,50 |
| Italy (no islands) | € 6,95 |
| Latvia | € 9,50 |
| Lithuania | € 9,50 |
| Luxembourg | € 8,45 |
| Netherlands | € 5,25 |
| Poland | € 6,25 |
| Portugal | € 7,75 |
| Romania | € 9,50 |
| Slovenia | € 7,75 |
| Spain (no islands) | € 7,35 |
| Sweden | € 6,95 |
The Difrax pacifier comes in five different sizes, ranging from newborn to 20+ months. The pacifier offers comfort and safety for any age. The size of the shield and the sucking part of the pacifier vary according to the age category. The sucking part becomes more solid as the ages increase, so it stays in proportion with the developing jaw strength of your child. The shield also becomes bigger, so it matches your child's face.

As soon as your baby starts to bite on the pacifier, we recommend stopping the use of a pacifier and switching to a teething ring or teething toy.

To all pacifiers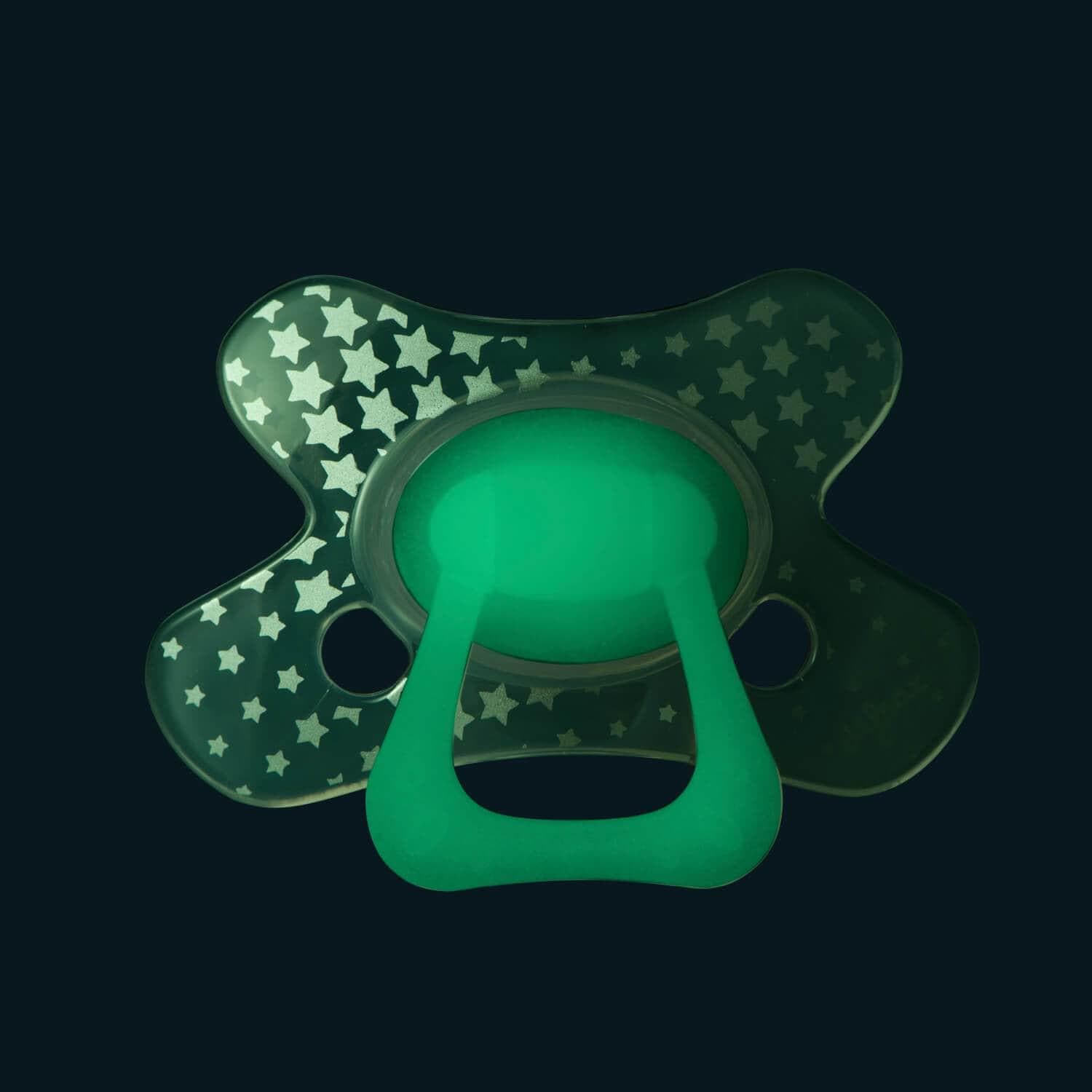 Pacifier Natural 20+ months - Glow in the Dark
Sale price

€6,29
Regular price
Choose options